Morgan is from Portsmouth and attended Bayhouse Sixth Form, Gosport. She was a student Ambassador, a member of the External Events Committee, and a bar-manager at The Willow Tree.
Her practice is with mixed digital media and sound, marshalling green-screened snippets of real life and a bassy soundtrack into an epic production of the everyday.
My artwork draws attention to everyday life in a way that doesn't make you think "oh fuck, not this again." It enhances the idea of the collective experience of being alive in a way that is slightly less terrifying than watching the news. With the apocalyptic tones of today's climate, it is easier than it's ever been to spiral into an existential depression pit and not even fancy going outside. But my work aims to bring to light the people and the stories that make it all worth it. To make the burden of the boulder a little less heavy. Each one of us is just pushing our boulders up that hill to let it roll back down again, but it happens to all of us. Ultimately, we are all Sisyphus.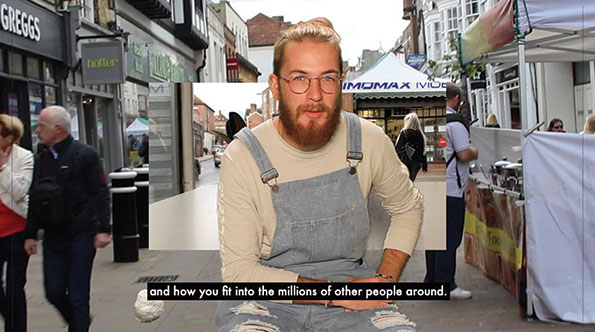 Symposium session: