Lily Flo Is from Stroud in Gloucestershire. She attended Foundation at South Gloucestershire and Stroud College. She spent a semester abroad studying Fine Art and Spanish at Universitat Politècnica de València, and attended Spanish classes at the Avenue Campus to continue improving her Spanish. She is passionate about environmental issues and a supporter of ecological movements such as Extinction Rebellion and Stop Ecocide. In the first and second year she belonged to the Acro-Yoga Society, where you work with a partner to create balances and stretches, where one of the pair is lifted by the other. When at home she usually works in an independent jewellery shop selling pieces by a collection of hand-picked artisan designers.
Based in the sculpture studio I have been primarily experimenting with sculptural techniques, though I frequently prefer the video documentation of the process rather than the sculptural outcome. I found that my sculptures made from wax were too solid, rigid and dead. I'm fascinated by the interplay between moving image and physical objects. The videos possess a sense of a living being.
Recently, I've been experimenting with physical materials that allow for movement, like strawberry jelly, silicone and latex. I've also introduced soft, tactile fabrics and foam. Additionally, I've enjoyed using chicken wire as the base armature for larger sculptures because it gives them a wobbly, jelly-like quality when touched.
The main themes I am developing relate to the body, both human and animal. Especially looking at the female body, how it is treated in society, focussing on reproduction and maternity, the abject, and our relationship with bodily fluids. When does a being cease to be considered sentient, with its own agency and experience, and begin to be treated as an object, something to be consumed, a piece of meat?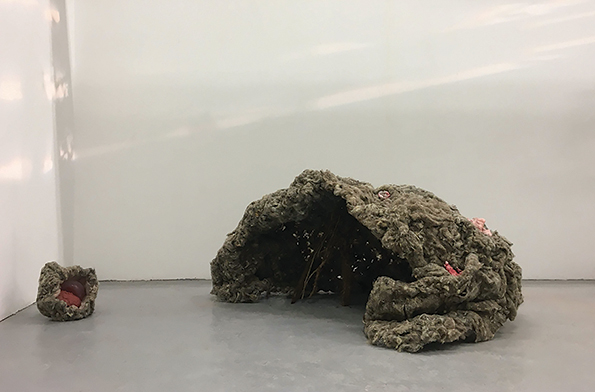 Symposium session: