Bianca is from Düsseldorf, Germany, born in Bangkok, Thailand. She attended St George's International School, Duisburg where she completed her International Baccalaureate Diploma.
Her work looks with humour and with colour at herself as a character and her childhood experiences, trivial everyday things that happen like getting sick or dealing with insects during the summer. Revisiting fears and anxieties are key elements in her paintings.
My art explores my childhood experiences and memories. I compress a variety of those memories into one narrative full of awkward self-portraits. These experiences are the trivial everyday inconveniences, bad memories, fears and struggles that have become a thing of the past, and due to their triviality are a laughable memory. I am interested in the fictional and fantastical as they are very personal to my growing up, so the idea of intertwining that with my real-life memories has allowed me to create a body of autobiographical fairy tales and adventures. Even though the subject can seem negative, how the figures are created, adopt a certain language that plays with the atmosphere of the subject, making it comedic. As a result, it can create a connection to the viewer, possibly evoking a sense of nostalgia.
My work comes in the form of paintings where I am able to use the paint medium to manipulate reality. Through stylized figuration inspired by archetypal figures found in popular culture, the experience is amplified, and the emotions dramatized. They become a new world of their own, living those same misadventures as the real memory, but it is unclear if they are suffering at the same level or not. The bright colours and various marks made are key distractions to the atmosphere of the situations. The playfulness in the application of the paint also adds an interesting contrast to the narrative that I like to play around with as it can be very thought-provoking.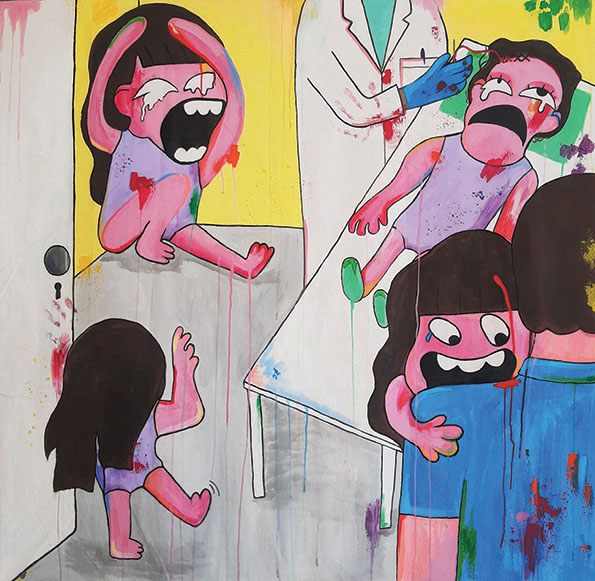 Symposium session: